From time to time it's nice to get away and forget about all the stress, deadlines, and responsibilities that await you. Sometimes it's not possible to physically get away. That's why we've lined up 5 extraordinary homes for you to dream about living in, even if for just a brief moment. Sit back, relax and enjoy these beautiful and extravagant homes.
1. The first home is so exclusive it's not even listed on the market. It's listing is password protected and at the asking price equal to the GDP of a small country you can bet the buyer of this $150 million estate will be amazed at all that comes with this behemouth.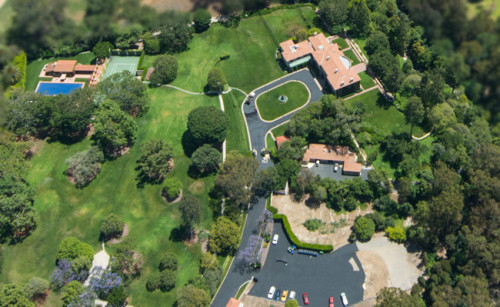 The estate is secured by three sets of gates; the first gate is located at the main entrance and has a newly -built Guard House that is fully equipped to monitor the property, the second gate accesses the larger bank of garages, the greenhouse and the second Guest House, and the third gate provides entry to the stately mansion. This historical gate was designed by the renowned architect, Robert Farquhar, who also designed the Beverly Hills High School. The gate is original to 141 South Carolwood Drive and features beautifully scrolled ironwork with dual Roman columns and ornate capitals.
2. Staying in California we stroll down the street to Beverly Hills, the Legendary Beverly House is for sale for only a mere $135 million. How would you like that monthly note? Home to celebrities and a retreat for a former President, you'll think you've died and gone to heaven once you immerse yourself in this property. Just look at this place!
The main level includes a 50 foot entry hall with loggia, a living room with 22 foot high arched and detailed ceilings, and the famed library with hand carved woodwork and staircase leading to second story wrap-around balcony and bookshelves. The billiard room contains herringbone parquet floors and a massive carved stone fireplace mantle from San Simeon. There is also a formal dining room, breakfast room, and family room with outdoor terrace accommodating up to 400 for sit-down dining.A garden level contains an art-deco night club, wine cellar, and one of two projection rooms in the residence. Another level contains spa facilities with a gym and massage room. The second story contains double masters, guest suites and staff accommodations. Additional features of Beverly House include a commercial kitchen, owner's and staff offices, outside staff accommodations, lighted tennis court with indoor bar and media center, guest house above eight car garage, separate security cottage, separate two bedroom apartment and two story gate lodge with kitchenette and four bedrooms.In addition to hosting John and Jacqueline Kennedy during their honeymoon, Beverly House also played a character in the classic movies "The Godfather" and "The Bodyguard." Want to see more? Visit here
3. Flipping coasts, we'll zoom over to the east coast where we find this magnificent gem for only $114,000,000. When the Jefferson's sang about "moving on up" I'm not sure even they could imagine this kind of property on the Upper East Side of Manahattan. If you can afford $444,000/month then you too could have this exclusive Manhattan home.
Visit all pictures of this property here.
4. We can't leave the Sunshine State out of this exclusive list. How about your own private island down in Key Largo. That's what you can have if you've got $110 million. This place gives new meaning to exclusive luxury. Instead of driving to your house, you'll be taking a boat to and from different islands the mainland. Hosting friends and family will require some strategic logistics, but can you imagine the dinner party you could throw?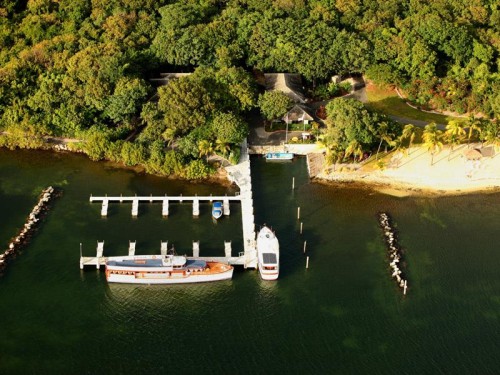 Full listing and pictures here.
5. Last but not least is another lush property on an island but not in the south, it's on the exclusive island of Martha's Vineyard off the coast of Massachussetts. For $108 million you can have 314 acres of exclusive shoreline and a 35 acre fresh water pond. Living on this dreamland would seem as if you owned the world. It's unlikely you could see anything except your land and your domain. Ahh, peace and serenity. Could you imagine living in this place?

It's called Homer's Pond. Sounds quaint but it's certainly not.
There you have it. Now it's time to wake up and get back to work. Maybe your work will give you enough money to someday buy something like one of these properties. Until then, keep on dreaming!
Jeramie & Christa Taber
2630 Memorial Blvd
Murfreesboro, TN 37129
Direct Phone: 615-533-8323
Office Phone: 615-896-5656
Email: jeramietaber@yahoo.com
The main level includes a 50 foot entry hall with loggia, a living room with 22 foot high arched and detailed ceilings, and the famed library with hand carved woodwork and staircase leading to second story wrap-around balcony and bookshelves. The billiard room contains herringbone parquet floors and a massive carved stone fireplace mantle from San Simeon. There is also a formal dining room, breakfast room, and family room with outdoor terrace accommodating up to 400 for sit-down dining.A garden level contains an art-deco night club, wine cellar, and one of two projection rooms in the residence. Another level contains spa facilities with a gym and massage room. The second story contains double masters, guest suites and staff accommodations. Additional features of Beverly House include a commercial kitchen, owner's and staff offices, outside staff accommodations, lighted tennis court with indoor bar and media center, guest house above eight car garage, separate security cottage, separate two bedroom apartment and two story gate lodge with kitchenette and four bedrooms.In addition to hosting John and Jacqueline Kennedy during their honeymoon, Beverly House also played a character in the classic movies "The Godfather" and "The Bodyguard." - See more at: http://www.hiltonhyland.com/listings/the-legendary-beverly-house-2#sthash.NCCM9n1I.dpuf
The estate is secured by three sets of gates; the first gate is located at the main entrance and has a newly -built Guard House that is fully equipped to monitor the property, the second gate accesses the larger bank of garages, the greenhouse and the second Guest House, and the third gate provides entry to the stately mansion. This historical gate was designed by the renowned architect, Robert Farquhar, who also designed the Beverly Hills High School. The gate is original to 141 South Carolwood Drive and features beautifully scrolled ironwork with dual Roman columns and ornate capitals. - See more at: http://www.theagencyre.com/for-sale/off-market-estate-holmby-hills/#sthash.39jTLw45.dpuf
The estate is secured by three sets of gates; the first gate is located at the main entrance and has a newly -built Guard House that is fully equipped to monitor the property, the second gate accesses the larger bank of garages, the greenhouse and the second Guest House, and the third gate provides entry to the stately mansion. This historical gate was designed by the renowned architect, Robert Farquhar, who also designed the Beverly Hills High School. The gate is original to 141 South Carolwood Drive and features beautifully scrolled ironwork with dual Roman columns and ornate capitals. - See more at: http://www.theagencyre.com/for-sale/off-market-estate-holmby-hills/#sthash.39jTLw45.dpuf
The estate is secured by three sets of gates; the first gate is located at the main entrance and has a newly -built Guard House that is fully equipped to monitor the property, the second gate accesses the larger bank of garages, the greenhouse and the second Guest House, and the third gate provides entry to the stately mansion. This historical gate was designed by the renowned architect, Robert Farquhar, who also designed the Beverly Hills High School. The gate is original to 141 South Carolwood Drive and features beautifully scrolled ironwork with dual Roman columns and ornate capitals. - See more at: http://www.theagencyre.com/for-sale/off-market-estate-holmby-hills/#sthash.39jTLw45.dpuf
The estate is secured by three sets of gates; the first gate is located at the main entrance and has a newly -built Guard House that is fully equipped to monitor the property, the second gate accesses the larger bank of garages, the greenhouse and the second Guest House, and the third gate provides entry to the stately mansion. This historical gate was designed by the renowned architect, Robert Farquhar, who also designed the Beverly Hills High School. The gate is original to 141 South Carolwood Drive and features beautifully scrolled ironwork with dual Roman columns and ornate capitals. - See more at: http://www.theagencyre.com/for-sale/off-market-estate-holmby-hills/#sthash.39jTLw45.dpuf
The estate is secured by three sets of gates; the first gate is located at the main entrance and has a newly -built Guard House that is fully equipped to monitor the property, the second gate accesses the larger bank of garages, the greenhouse and the second Guest House, and the third gate provides entry to the stately mansion. This historical gate was designed by the renowned architect, Robert Farquhar, who also designed the Beverly Hills High School. The gate is original to 141 South Carolwood Drive and features beautifully scrolled ironwork with dual Roman columns and ornate capitals. - See more at: http://www.theagencyre.com/for-sale/off-market-estate-holmby-hills/#sthash.39jTLw45.dpuf

The estate is secured by three sets of gates; the first gate is located at the main entrance and has a newly -built Guard House that is fully equipped to monitor the property, the second gate accesses the larger bank of garages, the greenhouse and the second Guest House, and the third gate provides entry to the stately mansion. This historical gate was designed by the renowned architect, Robert Farquhar, who also designed the Beverly Hills High School. The gate is original to 141 South Carolwood Drive and features beautifully scrolled ironwork with dual Roman columns and ornate capitals. - See more at: http://www.theagencyre.com/for-sale/off-market-estate-holmby-hills/#sthash.39jTLw45.dpuf
The estate is secured by three sets of gates; the first gate is located at the main entrance and has a newly -built Guard House that is fully equipped to monitor the property, the second gate accesses the larger bank of garages, the greenhouse and the second Guest House, and the third gate provides entry to the stately mansion. This historical gate was designed by the renowned architect, Robert Farquhar, who also designed the Beverly Hills High School. The gate is original to 141 South Carolwood Drive and features beautifully scrolled ironwork with dual Roman columns and ornate capitals. - See more at: http://www.theagencyre.com/for-sale/off-market-estate-holmby-hills/#sthash.39jTLw45.dpuf