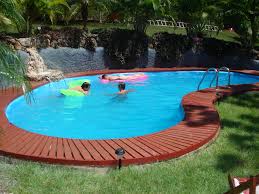 If you are a home owner, you know that the amount due on the monthly mortgage bill isn't the bottom line when it comes to owning a home. There are repairs, maintenance, landscaping, utilities, insurance, and taxes just to name a few. One thing to keep in mind when buying or upgrading a home is the hidden cost of owning things like swimming pools, trampolines, and other high risk items.
Swimming Pools are one of the biggest risks for homeowners when it comes to insurance. Insurance companies will get you on rates when it comes to owning a pool. The risk for insurance companies goes beyond the protection for you and your family. What if a neighbor or friend comes over and gets hurt or even worse drowns in your pool. You could be liable for their injuries or even sued for a potentially big settlement. In addition to having regular homeowner's insurance, you should look into getting an umbrella policy that could cover you in such events. You'd be surprised at how inexpensive even a $1 million umbrella policy is.
Trampolines are another risky item to have on your property. I think all of us at some point in our lives have suffered a trampoline injury or known someone who has. There are over 100,000 trampoline related injuries reported each year. Kids love them but insurance companies hate them, and they'll make you pay dearly for coverage. Some insurance companies have been known to exclude trampolines from coverage all together which means if someone got hurt on your property you'd be fully exposed if legal matters arose.
Water front properties can be some of the most coveted real estate in the world, and they come with some elevated risks and cost as well. With property near water you always have the risk of flooding. Insurance companies don't like floods and most refuse to cover home owners for flood damage from natural water sources. If you live in a flood zone you should run to your nearest company that sells flood insurance. Even if your area hasn't been flood in 500 years, it only takes one time to ruin your house and your life.
These are just some of the things to keep in mind when purchasing or upgrading your house. Paying attention to the fine print and making sure you are properly insured will not only give you a peace of mind, but it will keep you from potential financial disaster.
Jeramie & Christa Taber
2630 Memorial Blvd
Murfreesboro, TN 37129
Direct Phone: 615-533-8323
Office Phone: 615-896-5656
Email: jeramietaber@yahoo.com